"Celebrating our 76th Anniversary Season in 2022!"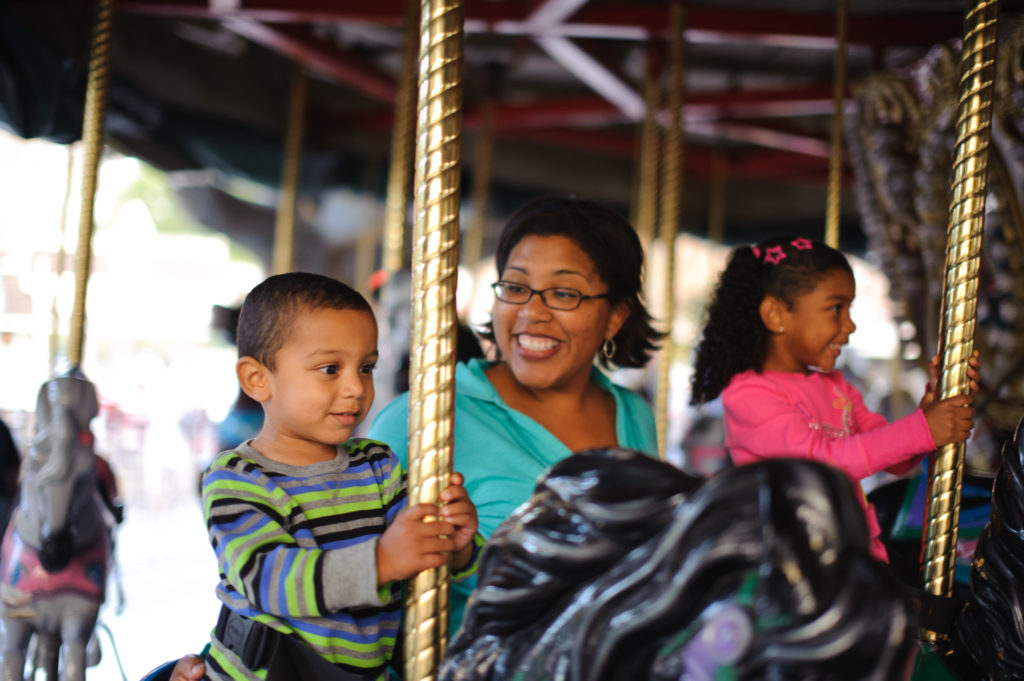 Please read the important new updated info below!  (UPDATED June 21, 2022)
Funderland is now open Wednesdays through Sundays for our 2022 Summer Season!
EXCITING PARK NEWS UPDATE! Our new-for-2022 attraction, Fort Funhouse, had its Grand Opening on Wednesday, May 4th, and is Now Open every day Funderland is open! Both children two years old and up AND adults can enter and enjoy navigating this new two-story jungle gym for climbing and sliding fun, and it is INCLUDED in your Pay-One-Price Unlimited-Ride Admission price, for all ages! Now you can ride, slide, and climb as much as you like on all of our rides and attractions, all day long, for one low price! See you at the Fort!
UPDATED GENERAL PARK ADMISSION INFORMATION:
IMPORTANT: YOU NO LONGER NEED TO MAKE RESERVATIONS TO VISIT FUNDERLAND, THEREFORE OUR ONLINE RESERVATION SYSTEM HAS BEEN DISCONTINUED AND ADVANCE RESERVATIONS ARE NO LONGER NEEDED. WE GUARANTEE YOU CAN NOW SIMPLY PURCHASE YOUR ADMISSIONS AND ENTER IMMEDIATELY WHEN YOU ARRIVE AT OUR MAIN GATE EVERY DAY WE'RE OPEN!
OUR ADMISSION PRICES FOR THE 2022 SEASON:

All of our "Pay-One-Price" (POP) admission prices shown below include entry to the park and unlimited rides for the entire day of your visit, for both children and adults!
(Note: Nine of our Ten rides and attractions are rideable by both children and adults, subject to the Safety Guidelines posted at each attraction's entrance: One ride, Oscar the Fisher, is only for children under 42 inches tall. Important: Each admission price shown below includes both entry to the park AND unlimited rides for the entire day of your visit, for both children and adults!)
Children under 34 inches tall are Free (Note: if the child has head and body control — the ability to sit upright in a seat without being held up by someone else — they will be able to ride most of our rides.)
Children 34 inches tall and over, through age 17: $22.00
Adults age 18 through 59: $17.00
Seniors 60 & Over: $10.00
(Note: Those who are pregnant, and those with hard casts, who, for their safety, are not able to ride most of our rides as noted in our Safety Guidelines, are $10.00, and may ride our Funderland Express Train and the fixed Swan Seats on our Classic Carousel as often as they like if they are able to be safely and comfortably seated.)
Safety Note: All ride safety decisions made by our Ride Operators regarding whether a guest will be able to safely ride are final: Please remember Ride Operator safety decisions are made for your safety.
2022 SEASON PASSES are available at our Main Gate and our Online Store for $80.00 per person, and give the named Passholder unlimited entry to Funderland AND an unlimited-ride wristband every day we're open to the public during our 2022 operating season, which runs through the last Sunday in November. There are no blockout dates for usage, and season passes may be used beginning the same day they are purchased.
NEW! FOR YOUR CONVENIENCE IF YOU PREFER TO PURCHASE ADMISSIONS IN ADVANCE, OR FOR GIFT PURCHASES, WE NOW HAVE A NEW ONLINE STORE WHERE YOU CAN EASILY PURCHASE OUR SINGLE-DAY UNLIMITED-RIDE PAY-ONE-PRICE ( POP ) ADMISSIONS AND 2022 SEASON PASSES AT THE SAME PRICE CHARGED AT OUR MAIN GATE, WITH NO ADDITIONAL FEES OR TAXES: SEE OUR HOMEPAGE AND CLICK ON THE RED "SHOP NOW" BUTTON TO BE LINKED TO OUR ONLINE STORE! YOU CAN EITHER SHOW THE REDEMPTION CODE ON YOUR SMARTPHONE WHEN YOU ARRIVE AT THE MAIN GATE OR PRINT IT OUT FOR USE, OR FOR GIFT-GIVING! ALL ADMISSIONS PURCHASED ONLINE ARE VALID ANY PUBLIC OPERATING DAY FUNDERLAND IS OPEN.
The State of California, as part of its revision and updating of their Covid-19 requirements, allowed our park and rides to return to normal capacity as of June 15, 2021, therefore the online reservation system was no longer needed, and the fact we have been allowed to return to normal ride capacity also means shorter lines for the rides, and more rides for you per day!
OUR MASKING POLICY: Please note we are following the Honor System mask-wearing policy now in place for potentially crowded outdoor venues where close contact is unavoidable (because our ride operators must check your ride safety restraints, for example): We ask all unvaccinated people aged two and over to wear masks at all times except when seated, stationary, AND eating or drinking. Fully vaccinated people are not required to wear masks, however we welcome and appreciate those who continue to wear their masks for the safety of themselves and others. We are committed to the safety of you, your family, your fellow guests, and our employees. Thank you for your help and kindness!
OUR FOOD & DRINK POLICY: We do allow you to bring your own food and drinks into the park, however, please note that we cannot allow anything that needs to be cooked, warmed, or barbecued inside our park, no alcoholic beverages are allowed, and no glass or breakable containers or bottles. We also cannot allow hard-sided coolers or ice chests. Small, collapsible soft-sided cooling bags are allowed, but contents may be subject to inspection at the Main Gate prior to entry. For your convenience and enjoyment, also note that our FunderTreats Concession Stand is always available for food, drink, and amusement park treat purchases every day we are open!